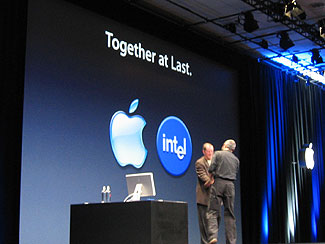 Apple would not be Apple if there was no sense of humor…
Update: The KeyNote is up for you to watch!
I would have liked to give this entry a more catchy name and I think that the following title would have been more catchy and better describing what happens here:
"Intel Inside!? No its Apple Outside!!" - Janco Tanis
I personally think this is some great news as it might allow people to install dual boot systems using OS-X for at home and Windows for Business on the fabuless hardware! I much like this hardware over all PC clones. Take for example the weight and battery time of the PowerBooks. Also the care they take on little details like number of connections build in, which are also better then standard (1gbps instead of 100mbps, bluetooth, dvi). So start selling this stuff, and count me in!