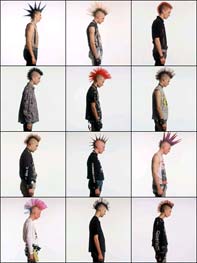 Exactitudes, the site of the dutch photographer Ari Versluis and stylist Ellie Uyttenbroek shows an interesting collection of photos — arranged in 3 x 4 matixes — of people of various cultures and social groups.
The thing I like most about it is the repetition of the people using the same pose. However as each individual is clearly different it makes you look and look at it.
Since october 1994 they photographed numerous groups in Rotterdam, The Netherlands. After 1998 they also got groups from all over the world: Beijing, Rio de Janeiro and Casablanca.
"L' exactitude n'est pas la vérité" — Henri Matise