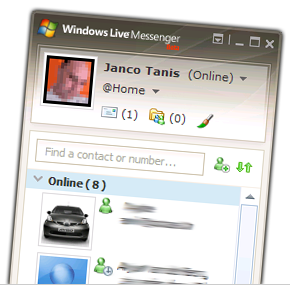 Just downloaded Windows Live Messenger. Works fine as expected and looks nice. It seems the first application which promotes the new Vista Aero Look and Feel on Windows XP. Most things work as expected and not a lot of new things incorporated. One of the features is Live Contact lists, Friends lists and the concept of a "sharing folder". This last item can be handy just to share a number of files instead of upload them one by one.
Don't forget to download the A-Patch for Windows Live Messenger! This little tool is able to patch the binary to get rid of some of the useless buttons — and more important — the advertisements.
And — by the way — don't forget this is bèta software!