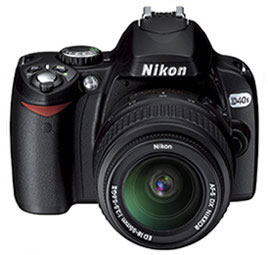 "The most compact Nikon digital SLR ever, featuring intuitive controls and ergonomics designed for everyone"
Only four months (November 16, 2006) after Nikon introduced "The most compact and lightweight Nikon digital SLR ever, combining outstanding picture quality with a design that's easy for everyone", Nikon introduces the eXtended version of the camera. The D40x is a 10.2 mpix version instead of the 6.0 mpixes of the D40. It also increased the speed from 2.5 to 3.0 frames per second. I guess this comes from the faster channels of the 10mpix chip. Further we have ISO starting from 100.
It's a bit of a surprise this camera was announced as everyone is expecting a D3h or D3x. It's also strange that it is announced so quickly after the initial version so I wonder if the 6mpix version will be discontinued due to lack of sensors. According to the announcement this is a sister camera to the D40 so it might be a new way of Nikon's branding like they do with the professional camera's D2h, D2x.
The camera should be available 22 march worldwide