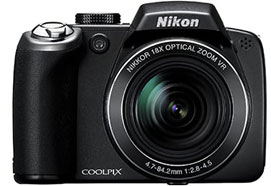 Nikon has announced a new camera, the Coolpix P80. As a former Coolpix 5700 user, this camera looks interesting. It has a whopping 18x zoomlens with VR and a 2.7" LCD on the back. What I like is the big dial at the top which makes it easy to switch modes. ISO goes up to 6400 so I guess that at 800 you get reasonable pictures. With the 5700 I would never go below the lowest ISO, anything else would produce too much noise. What also is still present are the electronic viewfinder, which is great to see manual adjustments, and the macro ability (1cm)
Biggest feature missing is the swivel display of the 5700.
This comes at the price of one third of that of the original 5700!