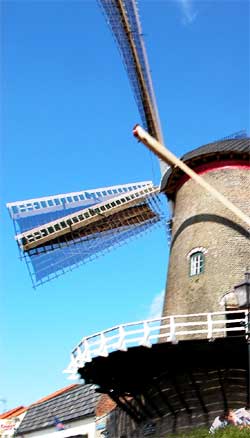 The CoolPix 5700 has a feature called Clear Image Mode. This is designed to have less noise but it has also some restrictions. I had once thirty photos ruined because the feature was accidentally turned on.
What happens is that in Clear Image Mode, the camera takes three shots, two normal ones and one with the shutter closed. What I found is that these two shots are combined and compensated with the shot where the shutter was closed. I guess that last shot is used to compensate for HOT pixels caused by long shutter times.
"Don't use this feature without a tripod!"
The manual says that you could better use a tripod. Well, I would say: "Don't use this without a tripod!". As shown in the example, the mill is a bit blurry. It also cannot be used for images with moving elements. As you see with the mill, the wings turn around and also on the picture you see a ghost image of the wings. The confusing thing is that the thumbnail is taken from the first image and when the hires version is shown also the ghost is added. As three pictures are taken it also takes a long time before everything is processed. I'm a bit negative on the feature because I turned it on accidentally but I will certainly try it again in a low light environment and tripod and see if the results are really better and with less noise.