With the entry below subitted to the fuji mugs challenge I got second place out of 120 submissions. Congratulations to Ginger Baker who got first place with the Abandoned Room and to koenigs with the third place.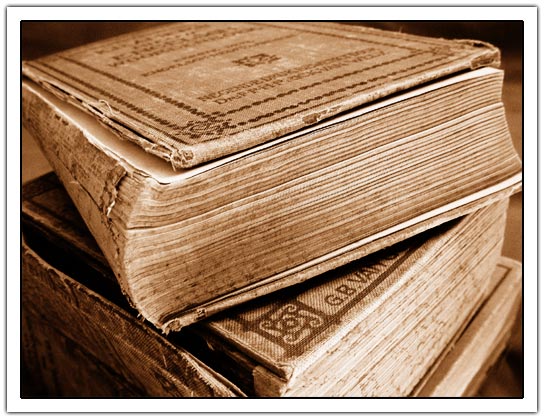 This time it took me two and half hours to take the pictures. I had various subjects, details of rusty wagons, wood and iron, broken tiles and books. Most of these picture were, what I call, just registrations of a subject. Something was lacking everytie. I think to capture a detail ofan interesting place is very difficult. Back at home a started all kind of books compositions. From I friend I got some old books. These really looked old because of the canvas outside and were around 50 years old. In my mind I had a picture of leader books on a dark brown table with a beam of sunlight with lots of dust in. However it turned out different as you have seen.(just because I had no experience with such a setup).
The real reason for the sepia tone is that the red background I used was a bit dull. When I look at a picture I mostly try the B & W and Sepia toned version (I use NikonView v6 software for a first look because I'm a CoolPix user). I put the books on a chari in the house and used a red cloth as background. Had also a halogen light for the lighting. The one below was an other nice composition.