When taking up my Coolpix 5700 from the store after repair I couldn't leave without also buying a decent flash and came home with an Nikon SB-50DX Speedlight. I decided for this little one because I'm not a heavy flash users and think I'm not worth the SB-80DX. This flash fits also on my F80 with most features accessible and also notices when the F80 flash is popped up.

On the Coolpix 5700 a number of features do not work:
Focus assist light
Red-eye reduction
I don't understand the Focus assist light not working. The first time when I attached the flash to the coolpix, it was automatically turned on! It might be caused by the fact that the flash was turned on (stand-by mode) when it was attached.
My first photo with the camera was a real F L A S H! I randomly pressed some of the buttons and the flash went in manual mode 50mm and flashed with all power it had. Take that with a distance of 50 centimeter to the subject and guess the result.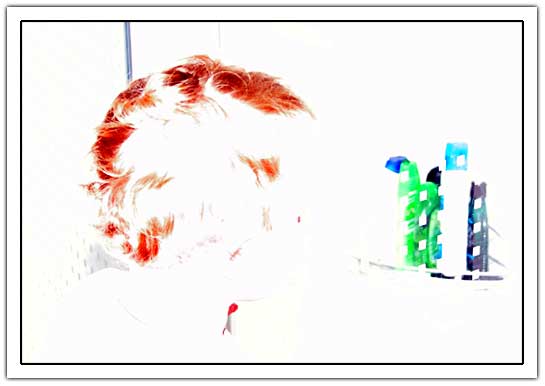 Below you can see the differences between the SB-50 and the popup flash of the coolpix. At the left you see the SB-50 bouncing to the ceiling. This gives a good reflection on the sofa and no red-eye on my daughter. However you see a small red cast on the wall which probably is the reflection of the sofa on the walls. On the right side you see the build in flash. This reflects so much on the leather sofa that it draws all attention. The walls are much darker and on the big image the red-eye were very bright.

Specifications:
Guide number 72 in feet at ISO 100 (82 when used in combination with built-in speedlight off the F80.
Built-in AF Illuminator.
Flexible flash head which tilts up to 90 or down to -18.
Flash head zooms from 14mm to 50mm.
Can be used off camera (wireless) triggered by the on-camera flash or another flash
Flash compensation of +3 EV to -3 EV in 1/3 EV steps
LCD indications: 3D Multi-Sensor Balanced-Fill Flash, Matrix Balanced Fill-Flash, Flash Output Compensation, Flash Zoom Head Position, Audible Alert Warning, No AF-Illuminator, AM, Slave Function