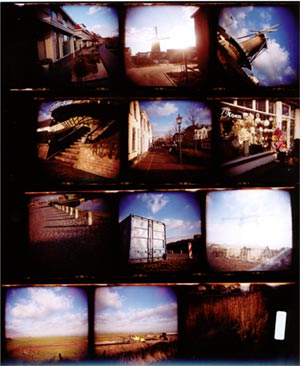 Just retrieved my first roll of Holga contact prints from the store and I'm quite happy with them! I didn't print them all but just ordered a contact sheet with all photos on as I had no idea what to expect from the camera.
I must say that the camera is much better then I expected. The images look quite sharp on the contact sheet. The vignetting is very present but not as bad as I expected from the prints and scans I saw.
The prints are with fuji 120 roll file rated iso 100. I checked exposure with my Nikon f80 build in matrix metering and lens set on f/8. I shot the complete roll on 28 november. It was a very sunny day and the 1/100 shutter time was no problem at all. I took one multi exposure shot and that was completely washed out. I must say the fuji film is quite good in over and under exposure as only one shot underexposed and one overexposed.
The next film I shot was an ilford 400 but I had less luck with this one. The wheater was very gray and got problems with the batteries of the flash. The traveled through the camera which cost me a few shots… The ilford has also much more problems with under exposure so most of the images came out quite dark… So I think I'll stick with color film for some time…
All scans are from a low quality office all in one fax, printer, scanner copier. I did no corection at all for the colors but applied a dust scratches removal filter and a bit of USM sharpness to compensate the filter.