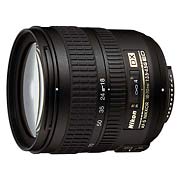 Today Nikon has finally anounced the specs of two new cameras. One of them is the much rumoured D70, which is as good as anyone believes. The d70 site is updated. If you compare the specs it seems a replacement of the D100. The only amateur features are the vari programs. The price is set to be under $999!!
Also the new AFS 18-70 (28-105mm in 35 format) is confirmed with a reasonable price tag. The D70 kit with this lens is estimated to be below $1299.
The other one is the Coolpix 8700. The last one is an upgrade of the Coolpix 5700 with the sony DSC-F828 8mpix sensor. The look and feel of the cam is exactly the same as the 5700 with the same dials and controls. The big question now is: "is it as noisy as the Sony!?"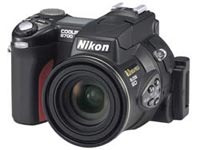 "is it as noisy as the Sony!?"
New features are:
ISO 50 instead of ISO 800
AE-BSS - Different from BSS which selects the sharpest image of a series of five, EA-BSS takes the one with the best exposure.
12 flexible scene modes - Portrait, Party/Indoor, Night portrait, Beach/Snow, Landscape, Sunset, Night landscape, Fireworks show, Close up, Copy, Back light, and Panorama assist.
four movie modes: TV movie (640 x 480 pixels; 30 fps), Small movie (320 x 240 pixels; 15 fps), Sepia movie (320 x 240 pixels; 5 fps), and Time-lapse movie (640 x 480 pixels; 30 fps) without audio.
Real time histogram
Interval timer shooting
A new AF assist illuminator. This is/was probably the most requested feature for the camera as the contrast af system was lacking.
I don't think I will need the increased resolution. However, the advantage is the glassless 1.6x teleconvertor you get when cropping the images!
My best feature of this camera is that the red stripe has returned on the grip ;)

The BIG ssurpirse for me was the CoolWalker. Its a storage product with 30 gigs of diskspace, USB 2.0, compact flash slot and a 2.5 inch monitor. Optional there are adapters available for SD, MMC, SM and MS media format cards. It can be used to directly hook up to TV or printer. It supports JPEG, TIFF, NEF and specials formats like QuickTime Motion JPEG and TIFF Wave Format Audio File.
Further Nikon has upgraded NikonView to a new software package called Pixture Project. Strange thats its not bundled with the Coolpix 8700 above!
More information can be found on dpreview.