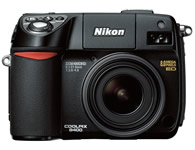 The new Coolpix 8400 is the 5400 replacement. It offers a bit more then only a sensor upgrade. The new sensor has 8 mpix — as we would expect for any high end camera now. The spectacular thing is the real wide angle lens. It offers 24 - 85mm (35mm equivalent). The body looks quite bulky and I don't like the looks of it. Like the F6, Giugiaro might have designed an ergonomic camera, it looks very bulky.
Nikon COOLPIX 8400 — The compact digital camera offering exceptional wide-angle 24-85mm zoom, the clarity of 8.0 effective megapixels and a range of other advantages.
Nice features include: swivel display, 24mm wide angle, histogram while shooting, electronic viewfinder with 235,000 pixels, af assist light and external sensor, 3 cm macro USB 2.0, 1.8" LCD, ISO 50 and a mode dial. It also will have instant turn on but I haven't seen any specs.
see also: