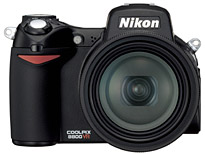 The new Coolpix 8800 is the 8700 replacement. For me it is a real surprise that the 8700 is already replaced by a camera with much better specs. This is the first Nikon digicam with VR (vibration reduction). I guess it gives you an extra 2 stops in low light conditions. Nikon promises 3 stops and photos should be sharp at 1/30s at 250mm. The second 'major' improvement is the mode dial. The extra length on the tele side is a nice bonus. It reaches now from 35mm - 350mm (35mm equivalent).
Nikon COOLPIX 8800 — The new flagship for the Nikon COOLPIX line comes equipped with 8-megapixel resolution, a high-powered 10x Zoom-Nikkor ED lens and Nikon's extraordinary VR System.
The camera body is also designed by Giugiaro — like the 8400 and F6. However this one is just right! It is very similar to the 8700 but also different. The swivel display fits on the camera and doesn't stick out. The camera is also bigger and heavier — because of swivel and lens. I'm happy that most buttons on the lens have gone. I sometimes accidently hit the wrong button. The lens now only has the AF/MF and VR buttons. Unfortunately no manual zoom and focussing.
It's nice that we have an extra jpeg compression level called "Extra" although I'm completely happy with the "high" setting. I wonder if the same sensor is used as now the ISO goes from 50 to 400 instead of 800 with the 8700. The AF assist light is not integrated in the flash so it does not need to popup. Like the 8400 the USB is upgraded to 2.0.
The lens is completely new. It is now a ten times zoom. It seems to be constructed in a single part unlike the coolpix 5700/8700. I hope that that also makes it mechanically stronger as a lot of people have had problems with it (LENS ERROR).
With the recently introduced coolpix 8700 I had no feeling that I wanted one. However with this digicam I already have the feeling that "I would not mind to have one".
see also: