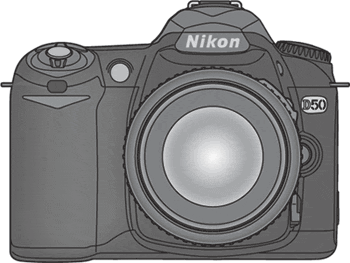 Nikon has uploaded the users manual of the new D50. It was found minutes after it was uploaded. The D50 is the new consumer entry camera. It has a 6.1mpix sensor, depth of field preview and 5 auto focus areas. Interestingly is the use of SD cards instead of the Compact Flash which is normally used in DSLR type of camera. The ISO range is from 200 to 1600. The other interesting thing from the manual was the AF-S DX 18–55 mm f/3.5-5.6G ED lens, used in this manual for illustrative purposes.
"The user manual was uploaded in error and we can't tell you when the official announcement about the D50 will be made," said Susumu Enomoto
Susumu Enomoto — a spokesman for Nikon — noted that the existence of a user manual for the D50 suggests the camera will go on sale in the not-too-distant future… May! May! May! May!