Although these rumors are going on for some time, I expect both camera's to be announced before Photokina in September 2008.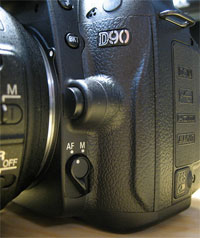 Both these camera's are expected to be announced August 27th. The D90, which was already expected as successor of the Nikon D100 late 2004, will be a DX camera. It is expected to have the 12mpix Nikon D300 sensor with live view. As a bonus, this will be the first DSLR camera with Video Capture qualities. This seems to be proven by the three little holes for the microphone. The only question is if it captures in full HD or not. I expect that this feature will drain the batteries as the sensor should be on full time during the capture.
The Nikon D3x announcement will show at least 24mpix at 5 frames a second. This will possible also update the current Nikon D3 with a slightly updated D3s which increases frame rates. For the 24mpix pictures to be captured at 5 frames a second, the EXPEED processors will need a 20% speed increase to a little more then 120mpix per second. The current D3 and D300 has speeds of 108mpix/s and 97mpix/s. When the nex EXPEED processors are put in the D3s it will be able to capture upto 10 frames a second.